Here's another Robert Oster ink from a batch of samples sent by the nice people of Everything Calligraphy. It's called River of Fire, and at first I was surprised because I was expecting something blue, then I realized that the name is "River", not "Sea" or "Ocean". It's a deep, rich, forest green color, sometimes leaning towards blue green, and a nice red sheen. It's quite an attractive color, especially in person. It reminded me of Sailor Tokiwa Matsu, except the base color is a bit lighter than Tokiwa's which is sometimes hard to distinguish from black when used with wet nibs because of how dark a shade of green it is. This ink is highly saturated green, but it not too dark as to make it an ambiguous shade.
As is the case with many dark-colored inks, the shading is not too expressive, though there's definitely some shading there. What's more noticeable is the red sheen. It really gives the color a nice contrast. That dark but shimmery halo that makes the lines almost luminous under certain kinds of light.
I would put the flow of this ink at a hair over medium with a stub nib. I'm happy I decided to use a stub nib for this review because the personality of this ink really shone through with a wet, stubby writer. Like the other Robert Oster inks I tried, it has a very nice flow that is a touch over moderate without being watery. It dries to a darker shade that is still vibrant and really eye-catching, with the red halo becoming more pronounced. Under natural light, it makes the ink looks like its edges are on fire.
The ink isn't water proof. It's not very water-resistant as well, so people who like to do ink and wash artworks will certainly enjoy this aspect of the ink's characteristics.
Here are a few close ups of the writing sample on Tomoe River paper: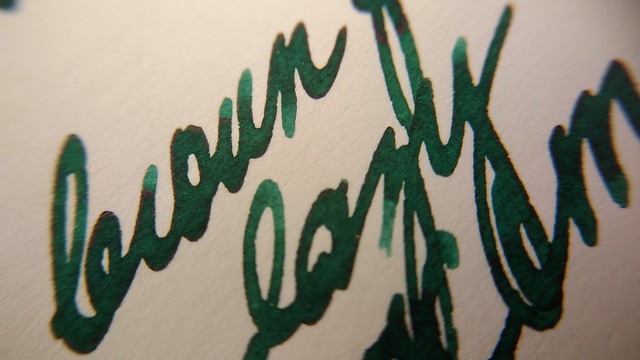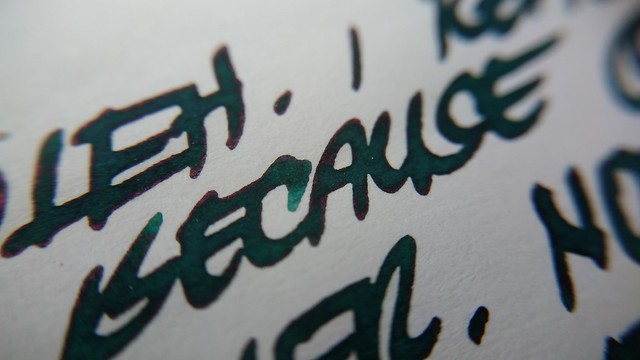 Overall, I enjoyed trying this ink out! The flow is pleasantly wet, the hue is gorgeous, and the red sheen gives it that wonderful look on paper.
Robert Oster inks are exclusively distributed in the Philippines by Everything Calligraphy.